Creativity, analysis & writing
at your service
Do you want…
To develop a project that is close to your heart?
To have clearer ideas and the energy that can come out of it?
To present yourself through a text highlighting the originality of your work and thinking ?
Whether you're an artist in need of fresh eyes, an entrepreneur embarking on a new venture, or simply someone wanting to move forward in life…
I'm here to help and support you creatively…
By helping you structure your ideas and express them into in words,
By bringing food for thought,
And eventually by whether writing texts – biographies, exhibition catalogues, creative briefs, mission statements, etc. – to make them appropriate to your projects.
This is then not strictly speaking coaching, but for sure it should motivate and get you into action. This is not supposed to be an analysis, although you should undoubtedly learn more about yourself. This is not JUST a writing service, although it may lead to the production of text. None of this will fit into a preconceived box, which is the hallmark of creativity.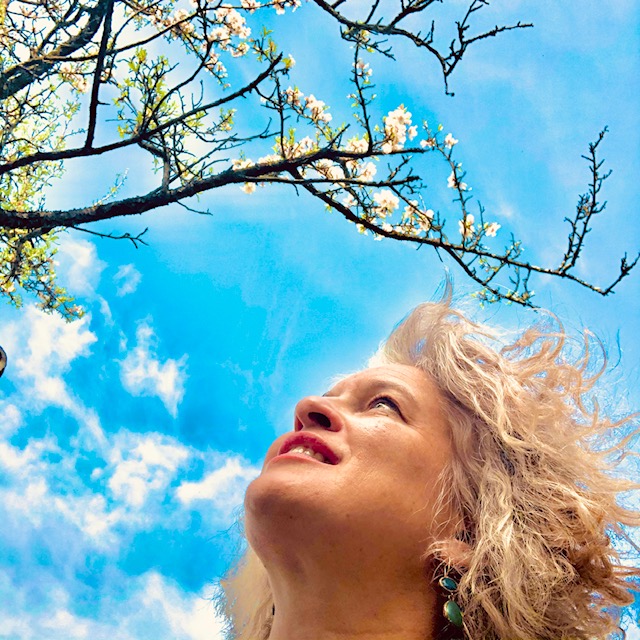 "You opened my mind to my mind."
Robert Pujade, Associate Professor of Philosophy, Doctor of Aesthetics, author of numerous books on photography, and photographer.
I was privileged to open a conversation with Robert Pujade. We also conceived an exhibition which was an opportunity to show his photographic work; I then produced a text to accompany this work. We designed a second exhibition highlighting his particular collection of photographs as well as his own work as an author of both text and images. Six months after holding this conversation on a weekly basis, I asked him to take stock.
I am committed, through the creative support I offer, to helping people 'make sense' through words, and eventually through writing. Is this something you have observed?
During our various exchanges, I was struck by your ability to listen. This quality appeared to me to be remarkable, firstly because of your ability to rephrase what I was saying, thus making it clearer to myself, and secondly, because of your ability to anticipate and extend the ideas or projects that I submitted to you. To put myself in the terms of your question, I was able to observe that your interventions constituted an extension of the meaning I gave to my productions.
It was on the basis of these considerations that I nicknamed you Diotima, in reference to Socrates' speech in Plato's Banquet, and that I was able to say to you: You opened my mind to my mind, thus plagiarising the photographer Arno Rafael Minkkinen, who had dedicated his first self-portrait to me with the words: You opened my eyes to my eyes.
I know that you have an interest in psychoanalysis, an exploratory practice that places great emphasis on self-expression through words. How does the work we have done together differ from this?
The unconscious, the only thing that interests the psychoanalyst, induces a form of listening to the patient centred on what he or she did not say at the moments when he or she was saying something: the essence of what the patient said has at most only an indexical value. Our working relationship is rather like the art of delivering minds – Socrates' maieutics – that Diotima practiced with Socrates.
What did the text I wrote about your photographic work do for you? Did it meet your expectations?
To quote Roland Barthes, "We always fail to talk about what we like. The photographic series I have produced, like most of my writing, emanate from an intense passion. The difficulty for me to explain this is due to a horror, that of pleading my case, of having to talk about choices that would justify the equivalent of a work.
The text you wrote for my exhibition expresses, first of all, an emotion that revives the one I felt when making this series of images. In this respect, it confirms the admissibility of these works for anyone other than me.
On the other hand, it situates this work in the context of my thinking and my writings, notably concerning the call of the singular.
I wanted a text that would introduce the audience to this particular universe without the interpretation distorting it. This was a perfect success.
Did the work with did together bring you anything else?
– It allowed me to refocus the relationship between my critical writing and my work as a photographer, based on the relationships that you helped me establish between these two activities, in particular based on my collection of works by famous or little-known artists.
– Important remarks from you on my project related to the Pre-Raphaelite movement, particularly on my relationship with the models that reoriented my research.
Would you recommend this creative support service? To whom in particular? Why would you recommend it?
I would recommend it to anyone who is engaged in poetic activity – in the Greek sense of the word poiesis defining an action that is carried out in a work outside the subject. Why would I do this? Because such activity involves operations of the mind on the external world and the issue at stake in this sense – whether as a technician, artist or writer – is always a project. Creative debvelopment, as you see it, is a source of opening up to possible perspectives.
Photo of Robert Pujade by Didier Ben Loulou.
"To give more meaning to my projects."
Anastassia Tetrel is an accomplished artist and an exceptional teacher. I had the chance to develop my own artistic work thanks to her teaching. It became an opportunity to discover more her own work, and help her develop it creatively. Here is her testimonial : 
The experience of coaching my artistic work with Delphine became a revelation, a new step for me. The sessions took the form of interviews about my artistic production. Delphine, through her empathetic listening and her discreet, pertinent and intelligible questions, was able to guide my thoughts so that the memories and ideas came up in a confident and free flow, and made sense. The time that is missing for thinking, the time occupied by "doing", this time was given back to me to take a step back on my own work, to talk about it as if I were facing myself. Converting one's thoughts into words, hearing oneself speak allows one to be surprised. Delphine engaged in an exchange around my work that pushed me to reflect, structure and define my artistic intentions. These coaching sessions allowed me to see how to give more meaning to my projects. Delphine then wrote a very rich article on my work, suggesting new avenues for reflection. Her fine, delicate and respectful analysis allows me to reach a new stage in my creative life. Thank you.
Delphine seems to write and think somewhat like a painter. Equally sensitive to and attentive to the physical aspects and presence of a picture, she also possesses an emotional intelligence to reflect on the interior world, the spirit, that it might contain.
Behind her elegant, sophisticated and gentle demeanour, Delphine is a powerhouse of a woman! Creative multi-talent with a sharp business head, she juggles creative projects single-handedly, and at the same time is a wonderful people connector. One of her fortes is to recognize people's talent and true voice and this makes her a dream creative coach to have. She has a special gift to make you believe in yourself!".